Being environmentally friendly as a scientist … mission impossible?
We are saving energy, buy plastic-free and go to work by bike. But when we enter the lab, it is difficult to work environmentally friendly.
It's the lab building alone that consumes 3 – 5 times more energy and water than an office building
Our samples lie in -80 °C-freezers which use as much energy as a single-family house
We use single-use plastic to make sure that our samples are safe and our experiments work. But this way of working generates a lot of waste: 5.5 million tons of plastic waste have been generated in all life sciences labs worldwide in 2014, and this number has certainly not gone down, …
In the last years, a lot of people working in the labs got aware of this massive resource consumption and thought about ways to decrease the environmental footprint of labs. There are now a lot of checklists and tips on the internet like this guide from the iGEM-goes-green group, these checklists from the UCL, these tips from mygreenlab or these from the labconscious website.
But every start is difficult and every lab is different. A tip which is applicable for one lab does not necessarily work for the lab next door. And there are other concerns like:
These recommendations do not apply to us
Our methods are established and cannot be changed.
We already optimized all our routines – no idea what else can be altered
A way to overcome these challenges and to start your individual way to a sustainable lab is the so-called ECOMAPPING-Method.
The ECOMAPPING-method: A practical way for every lab
This method was originally developed for small and middle-sized enterprises (SMEs) wanting to implement an environmental management system according to EMAS. But it can also be applied to labs – with some specific adaptions – and focuses on the environmental impacts in your lab related to
Waste
Water and wastewater
Energy
Emissions (which also includes noise emissions)
Storage (e.g., of chemicals)
Risks and safety
Chemicals and consumables
With the ECOMAPPING-method, you investigate these environmental aspects directly on site with your team.
You need a person, better a team of 2 or 3 persons, for every aspect
You need a floor plan of your labs plus the rooms associated with your lab (like storage rooms…)
You need a camera (smartphone or tablet) for documentation
You get a questionnaire as guidance for your aspect
Let's have a look into this lab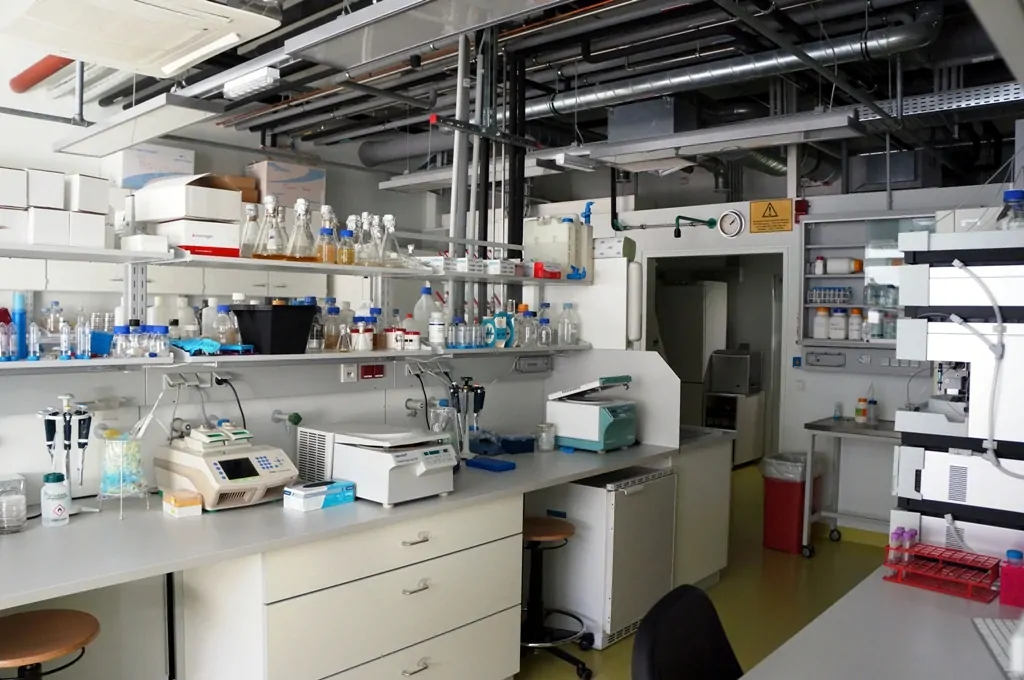 All the teams go through the lab focussing only on their aspect and writing down on to the floor plan what they notice, what is striking them and which action should be taken.
The actions are immediately prioritized into:
Priority A
Change immediately
Priority B
Change as soon as possible
Priority C
Check and change if needed
Do not forget to make photographs as this is your documentation!
A checklist will help each team gather ideas on what they should look out for. The energy team will get questions like:
Do we know the power consumption of our devices?
Are the devices in standby mode or off?
Do we know the heating times?
When are the devices usually started? (Directly in the morning or adapted to the heating-up times).
Do the devices have a high heat load?
Are they in the right place to dissipate the heat?
This is what the teams noticed in the lab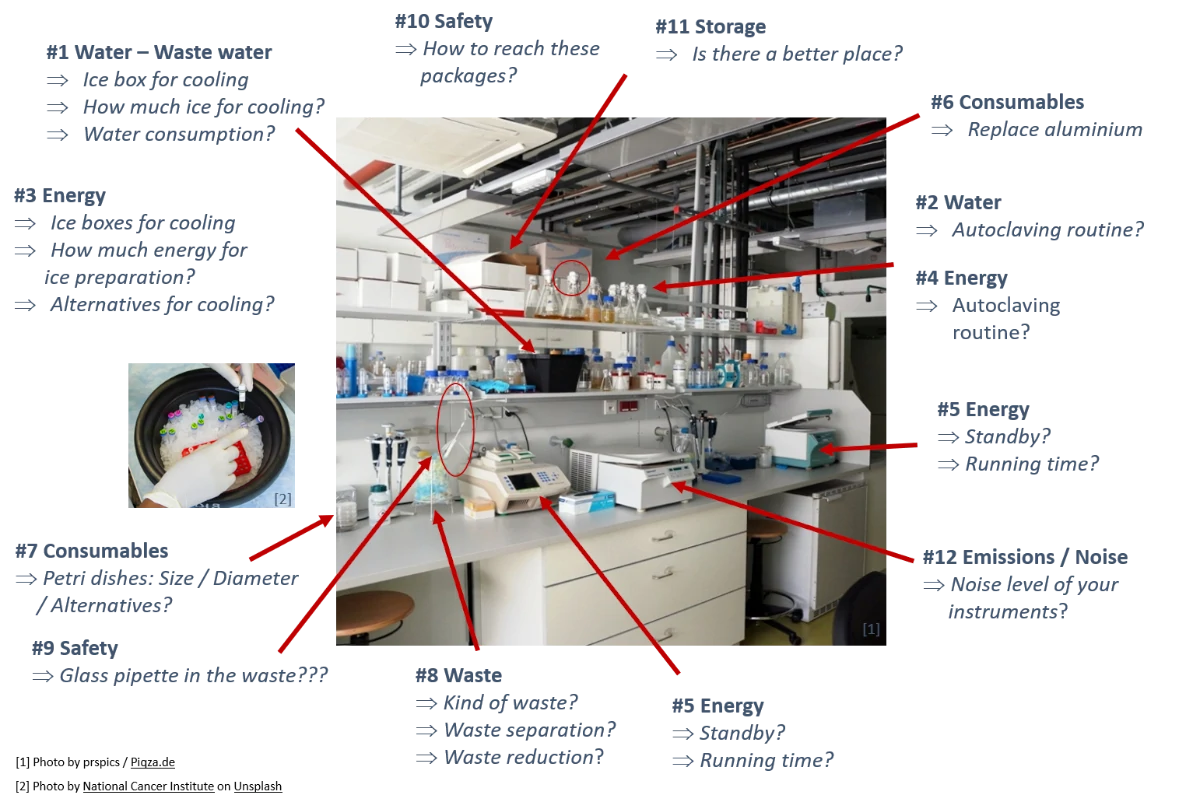 And this is what they noted in their individual floor plan (their ECOMAPs)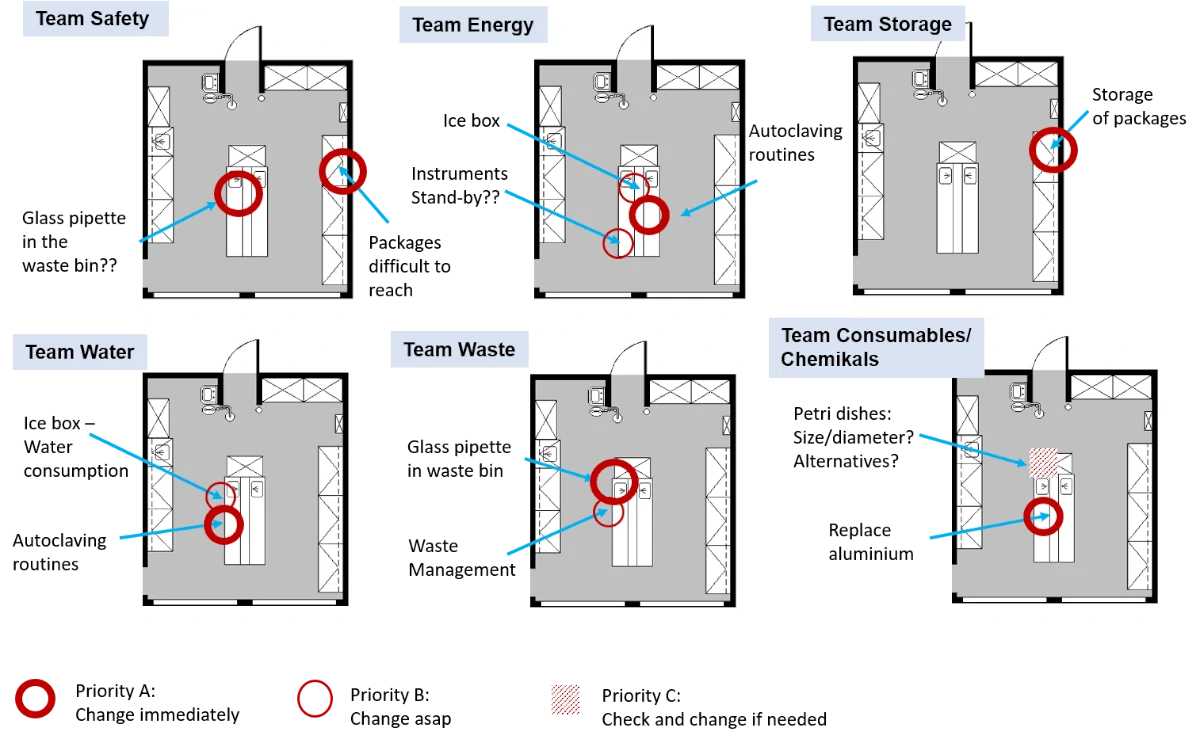 Discuss and get into action
All these results are compiled and the findings recorded in the individual ecomaps are then discussed. There may be overlaps – this is not bad, but desirable as it shows the different environmental impacts a routine, tool or method could have.
Discuss open questions and challenges. Evaluate all ideas for feasibility, environmental impact, cost or impact on your daily work.
Finally, create a joint assessment of your ideas and prioritise them together.
Create an action plan that includes the following:
Concrete actions
Budget (or not, because many measures cost nothing)
Deadlines by which the measures are to be implemented
Responsibilities
Resubmission to review your measures
What could be your result?
The team formulated the following action plan:
No more use of aluminium in autoclaving bacterial cultures. Instead, metal sealing caps are used.
The autoclaves were running at 134 °C, but the team found that 121 °C was sufficient: From now on, the autoclaves will be run at 121 °C, and stickers remind people to only run an autoclave when it is fully loaded.
Stickers on the instruments remind people to switch them off when not in use to avoid stand-by.
Since cooling with ice requires a lot of water and energy to produce ice, alternatives are being tested.
A concept for sharing equipment is under development.
Guidelines for sustainable procurement are being developed, sustainability labels such as ACT, EGNATON-CERT and Energy Star will be considered in the future.
These are just a few examples that can result from applying the ECOMAPPING method. And most of these actions do not cost anything.
To sum up – The ECOMAPPING method …

… can be applied to any lab, be it a molecular biology, chemistry or analytical laboratory
… comes with a simple documentation
… raises awareness in your team as you see your lab with a different perspective
… can be your first step to an environmental management system
Note: The Ecomapping method is based on the ecomapping/EMASeasy™ concept, which was originally developed by Heinz Werner Engel and is disseminated in German-speaking countries by WUQM Consulting.
Title Image: Testalize.me, www.unsplash.com, https://unsplash.com/photos/0jE8ynV4mis